Wasfaty Operations Center
Project Challenges
Establish a Wasfaty Operation Center to ensure medication availability, enhance patient safety and satisfaction, and reduce 937 complaints. The scope includes the current situation and anticipating and responding to emerging circumstances, improving the efficiency of care delivery, and enabling supply chain efficiency through integrated processes and enhanced information. The steppingstone is to increase supply chain efficiency and harness its data to inform decision-makers using intelligence and insights generation.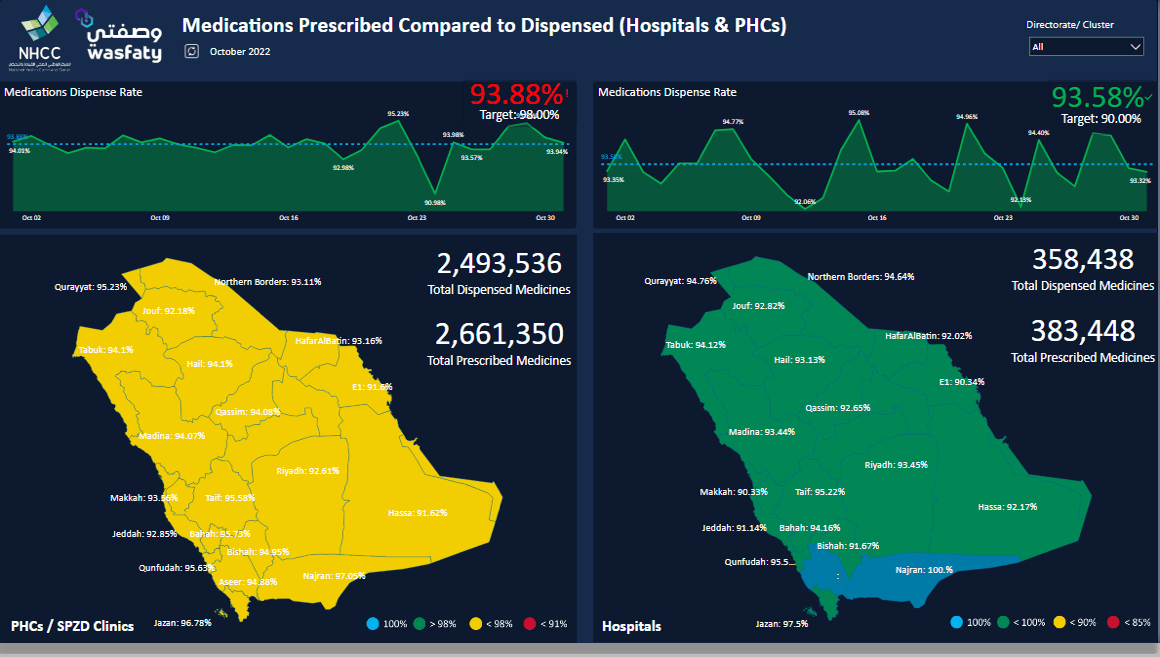 Results
The Outcome
Wasfaty Operation Center was established in February 2022 with a vision to reduce 937 complaints, ensure medication availability, reduce stock expiry, and enhance the patient experience & patient safety. Wasfaty Operation Center, the establishment and the results are:-
Activate Pharmacies in Wasfaty Program dispensing prescriptions: Total Pharmacies: 2552 Active Pharmacies: 2164
Medication prescribed compared to dispensed (Hospitals & PHCs) Almost reached 94%
Deployed national patient experience optimization to increase patient satisfaction
A total of (75%) of alternative medications activated
how we did it?
The approach
Ascend worked with MOH stakeholders and NUPCO to establish an operating room to provide the leadership and decision-makers with recommendations based on the best available information driven by analysis, best practices, and forecasting to support the decision-making process to deliver optimal quality and safety. The Wasfaty Operation Center continuously monitors and evaluates the performance and quality of the Wasfaty services, addressing system inefficiencies and gaps, and enabling proper response. Key steps included:
Create a 'Ticketing' or 'IPOMS' system to ensure action is taken and closed.
Organize by verticals including governance and supply chain, operations, communications & patient experience, clinical, contract management, quality & analytics, and digital.
Leverage dashboards and analytics reports together to understand the current state. This includes scenario planning, monitoring, and war room triggers per dashboard